If you've ever pressed the Shift key
five times
in a row, intentionally or accidentally, you've no doubt encountered the Sticky Keys feature. It's designed for
users
who have
special needs
, and it makes certain keyboard functions considerably easier to access. You might find that you prefer it.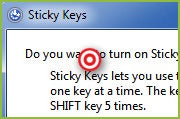 Suppose you want to launch Windows Explorer via the
keyboard shortcut
. Normally that means holding down the Windows key and tapping E. The same goes for common functions such as
Copy (Ctrl- C), Undo (Ctrl-Z)
, and even capital letters
(Shift-letter).
With Sticky Keys enabled, however, you don't have to press two keys simultaneously. Instead,
the Alt, Ctrl, Shift
, and Windows keys become "sticky," meaning that you can press one of those keys, release it, and then press the other key you want to use.